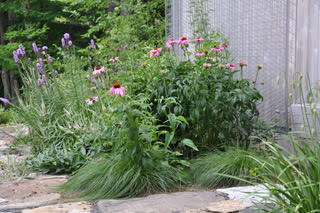 What we do:
Every project begins with an onsite consultation with the client. The natural systems and plants of the site are inventoried and analyzed to have a holistic understanding from the perspective of the ecology. Green View Building & Design Company, Inc. then creates a Master Plan with both site systems and the program of the client in mind, or collaborate to come up with design solutions for smaller challenges – places of refuge within your landscape. We custom design pools, stone and structural features to enhance your living spaces, restore woodlands, wetlands and disturbed sites to biological diversity. We consult with you on land stewardship and ecologically sound vegetable and edible plant garden installation and management. It's also a priority to help you understand and appreciate the biodiversity of your gardens and to attract pollinators.
Years of experience working with civic and private commissions and attention to detail and communication means that we can guide you successfully through permitting and approvals processes. Whether the scale of your program is to restore or enhance a larger native ecosystem or to create an intimate garden refuge, we specialize in creating designs of lasting beauty and ecological diversity in Cornwall, Litchfield County, Goshen, and Warren, CT. Contact us today to learn more about our landscaping, home renovation, and bathroom remodeling services!
Alexa Venturini
Call direct at
860-672-0350
About:
Alexa Venturini is a landscape designer and contractor who specializes in ecological design and restoration. She earned her Bachelor of Science in Fine Arts and then worked as a graphic artist before moving to New England and beginning a career as an estate gardener and interning at native plant nurseries in CT and New York. While working as an estate gardener she began a four year course of study at the Institute for Ecosystem Studies in Millbrook, NY, earning certification as a landscape designer. For 25 years she has been learning about the lives of native plants and ecosystems, designing and implementing Master Plans and creating designs of lasting beauty and ecological integrity.
She works with an experienced team of professional engineers, excavators, builders, stonemasons and plantsmen and is fully licensed and insured as a home improvement contractor. As a visual artist, designer and activist and she is passionate about the intersection of nature, art and our place as humans in the natural world.